This was originally posted at my main blog: Random Acts of Verbiage: Wikimapia. Original comments can be found there.
I have a new addiction. Wikimapia. A combination of Google Maps and Wikipedia and their goal is to "describe the whole Earth!" Seriously, with things like this and Google Earth I can't leave the computer. The following images will take you to their Wikimapia page.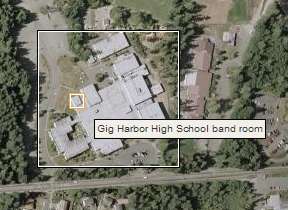 There are similarities between Google Earth and Wikimapia, but the idea of Wikimapia is to make it easy to see and find out info about the places you are looking at. You can easily add new places or add to or change existing ones. At right are two that I added: Gig Harbor High School and its band room. Because that is the kind of geek I am.
And for some more…
Click here to continue reading this post…